On the evening of February 28th, against the stunning backdrop of the Rainbow Room in New York City, the Baker Retailing Center awarded the first-ever Baker Retailing Center and Retail Leaders Circle Retail Excellence Award. The honoree was Tory Burch, the renowned fashion designer and longtime champion of women entrepreneurs.
In introducing Burch, academic director Tom Robertson explained that the new award is meant to spotlight an innovative industry leader—one who promotes the social good. "We can't think of anyone who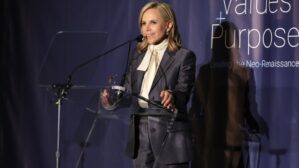 'd be more appropriate for this award than Tory Burch," he said, calling her "a true visionary."
In accepting the award, Burch noted that when she started her company in 2004, she sought to create luxury products that were "aspirational yet accessible." At the same time, she wanted to create a foundation for women. "It was in my business plan from day one."
She has achieved her goals, with merchandise in 3,000 departments and specialty retailers worldwide, plus 345 of her own stores. And the Tory Burch Foundation is a reality, dedicated to advancing women's empowerment and entrepreneurship. Established in 2009, the Foundation has partnered with Bank of America to provide nearly $75 million in loans to women, and has supported over 4,800 female entrepreneurs with access to capital, education, and digital resources.
Burch highlighted some of the challenges faced by this demographic: "One in two entrepreneurs are women, but they receive just 2.3 percent of venture capital… And there's a clear double standard around women's ambition. Our goal is to empower more women to embrace their ambition, whether they're a stay-at-home mom or a CEO."
Robertson commented, "Tory Burch is a guiding light in our industry… She has proven that building a brand and being socially responsible can in fact go together beautifully."