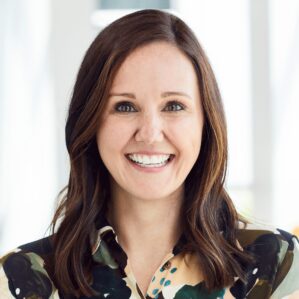 Crocs is a multi-billion dollar business and the #3 footwear brand on TikTok. Just how did this happen to a plastic boating clog launched 20 years ago—a shoe that some people still "wouldn't be caught dead in," according to its chief marketing executive?
That chief marketing executive, Heidi Cooley, recently explained the mystery in a talk at the Baker Retailing Center's Executive Speaker Series. She herself sported a pair of white Crocs studded with glittering charms, or "Jibbitz" as the company has branded them. 
Interviewing Cooley was Wharton marketing lecturer Annie Wilson. She asked the CMO about the high-profile brand collaborations the company has engaged in. Many of us have seen these attention-getting designs on social media, including Crocs shaped like a bucket of KFC (complete with Jibbitz that smell like fried chicken); stiletto-heeled Crocs from Balenciaga; and Harry Potter-inspired crocs from Vera Bradley. Some of these limited-edition creations have sold out in minutes.
Wilson noted that Crocs' collaborations appear to be "all over the place," citing additional unexpected partnerships with food companies, fashion houses, and celebrities like Bad Bunny, Post Malone, and Justin Bieber. How does the company decide what brands to partner with?
Cooley noted that collaborations have been a key driver of relevance for Crocs over the past few years. She shared that the brand has intentionally phased their collaborations in a surprising way, "to make people say, 'how does Crocs go from Balenciaga to KFC to Post Malone?'" The challenge now as a business, she said, is to move on or evolve the strategy, since many brands (for example New Balance), "are comfortable doing 7-Eleven… So we have to maintain our position being at the core of those brand partnerships in the future."
"We Want Lightning McQueen!"
Another strong driver of Crocs' popularity is Crocs devotees themselves, who are incredibly loyal, Cooley said. Many of them aren't concerned with what's considered trendy or fashionable. Cooley recounted how a young Crocs wearer named Colin created a Change.org petition to have the company make adult-sized clogs shaped like Disney characte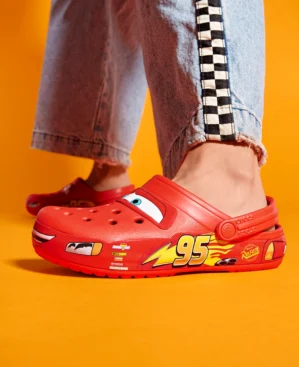 r Lightning McQueen. The company agreed to do so if the boy received 5,000 signatures. Within a week, he got 30,000 signatures, and Crocs kept its end of the bargain. "We've dropped them three or four times and they've become one of our highest demanded collaborations," said Cooley. "And you can see it's because it's grounded in a consumer insight… Vogue may not care about Lightning McQueen, but our fans care." How has Crocs' business fared during COVID, an audience member asked? Cooley noted that some have labeled Crocs the "pandemic shoe." It's a reference, of course, to people being stuck at home, but Cooley says she considers it a compliment: "We were able to provide a sense of comfort in a really uncomfortable time."
Moreover, healthcare workers—many of whom already wore Crocs on the job—came to rely on them even more during the pandemic because the shoe is comfortable, affordable, easy to clean, and easy to slip off hands-free. Cooley told how Crocs, in response to tweets and DMs from doctors and nurses, launched the "Free Pair for Healthcare" program in 2020. They rushed 860,000 free pairs of shoes to front-line healthcare personnel in only 45 days. 
"The goodwill we created with that campaign [was amazing]—there's still a halo on Crocs today," Cooley said. "It proved that the responsive playbook works." 
Showing Up Where the Customers Are
Cooley shared another secret to Crocs' success: creating brand awareness in digital and social media. In addition to its aforementioned presence on TikTok, the company has partnered with Bitmoji so people can dress their digital avatars in the iconic clogs. In addition, Crocs is the #2 selling shoe on NBA 2K, a series of basketball video games. And the company recently created a popular concert for Aespa, a South Korean girl group, on the gaming platform Roblox.
Of this marketing approach, Cooley commented that it involves bringing the brand to the customers. That may sound easy, she said, but it requires a company to constantly have a pulse on where consumers are spending their time. She said Crocs has decided to pay less attention to marketing KPIs and deliverables, and focus more on researching and understanding where the consumers actually are and how the brand can authentically show up there.
"We are quite bold as a brand… We're willing to do things that a lot of companies probably wouldn't," Cooley stated. She observed wryly, "Maybe it's because we started out by having nothing to lose."