If you've ever walked into a mall in America, you've probably seen a Lids store, says Lawrence Berger. Berger co-founded Ames Watson, the company that bought the struggling cap brand four years ago for $101 million. Today Lids is a 1,400-store worldwide retailer of hats and licensed sports goods, with over 9,500 employees and $1.7 billion in revenue.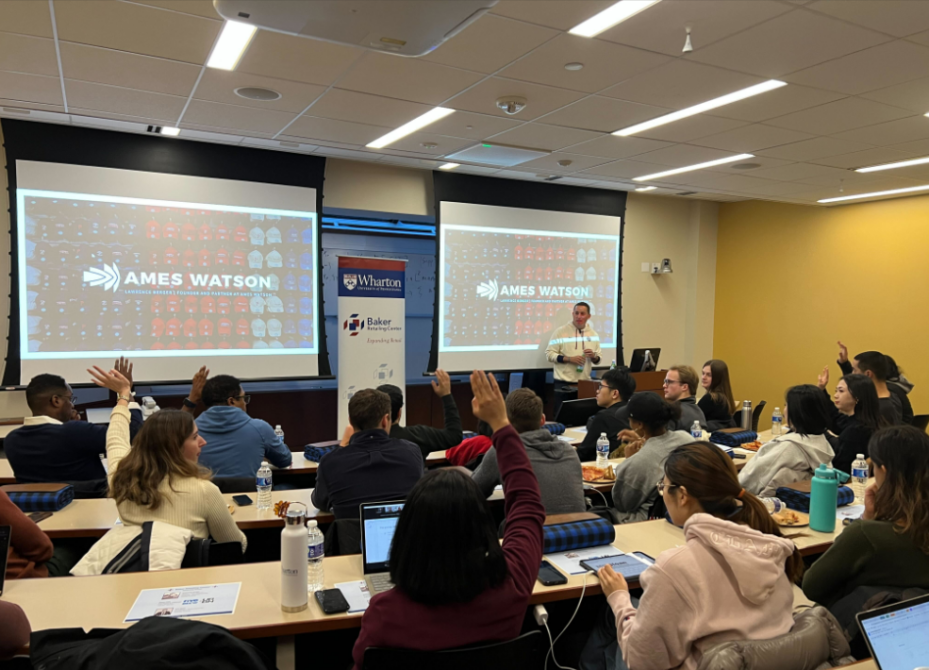 But Berger himself was no overnight success—as he readily admits. Of Lids' popularity, he jokes, "It only took 25 years of failing to be able to do that." He regaled the audience with compelling tales of his up-and-down entrepreneurial career at a recent Baker Executive Speaker Series event.
Berger earned his undergraduate and MBA degrees from Wharton, graduating in "the crazy dot.com era" in which a third of his class left the program early to take tech jobs in Silicon Valley. Berger, however, was interested in entrepreneurship. He and a partner started a training business for lawyers, but unfortunately it failed a year later when September 11th hit and most law firms cut their training budgets. His next endeavor was a point-of-purchase printing company, which went out of business in only 18 months.
Lessons From Turnarounds
Berger then found a niche with a small private equity firm that specialized in purchasing "corporate orphans": unwanted divisions of large companies. He stayed for ten years, during which he "bought 40 different businesses… learned how to turn companies around, do deals—just got a lot of reps under my belt."
So he was well versed in business turnarounds when he came across an opportunity with Fans, a Utah-based sports gear company. He and a partner bought the failing company. Neither had a retail background but they decided to test various approaches: a sweatshirt sale one week, $5 hats the next, a few BOGO sales. They closed unprofitable locations, reduced corporate staffing, hired marketing people, and started measuring their data.
That opportunity was one that finally went right, said Berger. With money available, he noticed that Lids, a $600 million business at the time, was up for sale. Berger said potential buyers were reluctant because it was a brick-and-mortar, mall-based business, and many people assumed at the time that "the Internet was going to win everything." Berger bought Lids in 2019 and turned it into the household name it is today—even despite the pandemic.
Selling Astros Caps to Parisians?
Lids may seem like a uniquely American brand, but Berger has managed to expand it to countries including Australia, France, Germany, Mexico, and the UK. The decision to move into overseas markets brought up an interesting issue, Berger said. For example, in London, "do you want to sell lots of Premier League, or do you want to be an American Lids that sells Yankees and Dodgers hats?" The company went with the American approach, and it worked. "If you go into a Lids store in Germany today, it looks exactly like a store in New Jersey, and people buy the same stuff… even the same percentage of fitted hats and Dad hats."
When it comes to marketing, Lids does most of it on social media these days. Berger described the campaigns as "either [content] to feed to people when they're near our stores, or content for social media to make the Lids brand 'cooler.'" Last year Berger launched a program called Lids Hat Drop, which drops limited-edition caps twice a week. It doesn't generate a huge amount of revenue, he said: it's more about getting people to talk about it (which they do).
Made For Brick-and-Mortar
Given Lids' investment in social media, will e-commerce become a major focus in the future? Probably not, Berger says, although the company does maintain a web presence through Fanatics, the online manufacturer and retailer of licensed sports gear.
"I don't think I appreciated it at the time we bought the business," said Berger, "but it turns out that a hat is a really great product for brick-and-mortar because people want to try it on. And it's a crappy product to ship because [you need] a big box, so it's more expensive." He also noted that shoppers who visit physical Lids stores tend to add more products to their basket than customers online.
As someone who came late to the retail world, Berger observed that retail is not a sector that many investors gravitate toward first. But, he said, "it's a pretty cool, fun, tangible thing. And, when you invest in places that fewer people want to go to, you can make a lot of money doing it."