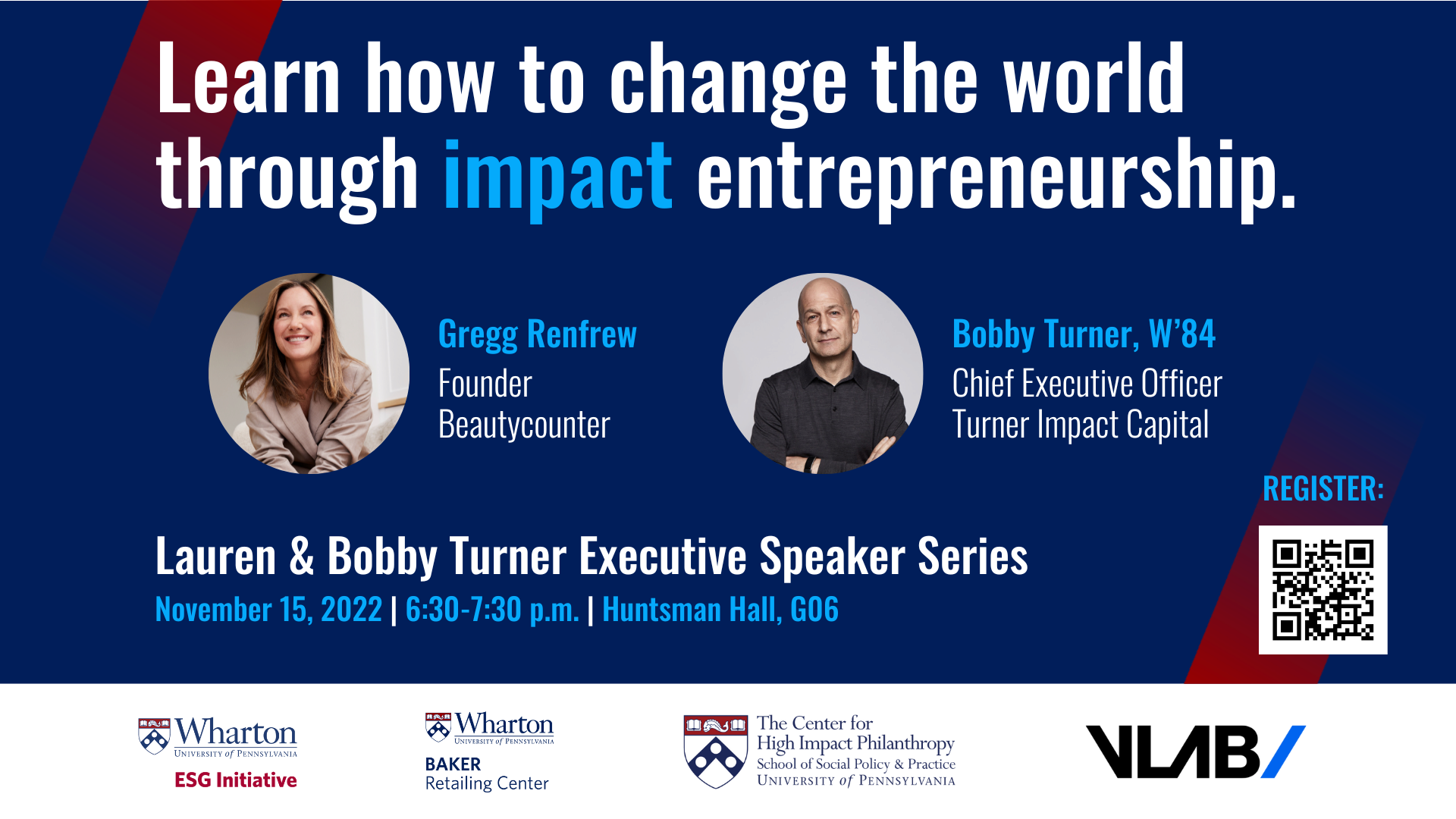 The designer lipstick we apply before a big date… the fragrant moisturizer we rub in after every shower… the sunscreen we slather on our toddler's delicate skin… How many of us stop to think about these products' ingredients and whether they're healthy for our bodies? According to Gregg Renfrew, founder and executive chair of Beautycounter, more Americans need to be asking these questions. 
Renfrew's search for safer, more natural products for herself and her family eventually led her to start Beautycounter. Launched in 2013, the company's offerings include high-end makeup, skin care, hair care, and body care products. Beautycounter's website assures customers, "We meticulously screen our ingredients for safety, so your beauty rituals come with peace of mind."
Renfrew sat down for a fireside chat with fellow social impact entrepreneur Bobby Turner W'84, CEO of Turner Impact Capital. The event was part of the Lauren & Bobby Turner Executive Speaker Series co-hosted by the ESG Initiative, Jay H. Baker Retailing Center, Center for High Impact Philanthropy, and Venture Lab. 
Can Beauty Be Toxic?
Renfrew described how part of the inspiration for Beautycounter stemmed from her experiences with friends' medical conditions. While living in New York and running a children's clothing company, people she knew "in their twenties, thirties, and forties—both women and men—were getting diagnosed with different types of cancer… And I had a whole bunch of friends who were struggling with fertility issues," or giving birth to babies with health problems. 
She started to connect the dots, as she put it. "I came to realize we were being exposed to toxic chemicals, and these chemicals are detrimental to human health and also the health of the earth." 
Turner asked Renfrew to speak more about her choice to become a social impact entrepreneur. In what ways did she feel that business could be a force for good in the world? Renfrew said she aimed to create beauty products that were not only safe but that people would actively seek out. "I wanted [to capture] the sex appeal of a red Chanel lipstick… something that looked and felt amazing, to look cute on a Friday night." The world didn't need just another beauty brand, she said, it needed "a movement for change, and I felt I was the right person for the job."
Renfrew's self-described "movement for change" includes political activism. She cited the eye-opening fact that the U.S. has not passed any legislation on beauty product safety since 1938. She has actively lobbied Congress to expand cosmetic industry regulations. As just one example of this need, Renfrew mentioned a recent study of 38 aloe-based products sold everywhere from big box stores to natural food companies. None of them actually contained any aloe, it turned out. "Whatever these companies are saying to you—'all-natural' or 'preservative-free' or whatever—nine times out of ten it's not true," Renfrew asserted.
Beautycounter is a brand that takes care of the planet too, Renfrew noted. It is a verified B corporation, meaning it maintains high standards around environmental and social governance. The company's bonus structure is based in part on Beautycounter's ability to perform against efforts such as sustainability, social impact, and advocacy. 
"I think it's important that companies motivate their executives and all team members that part of their bonus is not just about making money, but doing what the company has set out to do—its mission," she said.
"Simply Good Business"
Turner pointed out that Beautycounter products are relatively expensive. Were enough consumers willing to pay the higher price point? "When I started Beautycounter," answered Renfrew, "I knew that consumers were going to reward us with their business because people care about their health. We all want to be healthy; we want our family members to be healthy. And we are all watching too many people get sick." 
Renfrew commented that many companies and investors still don't believe in the 'doing well by doing good' approach to business, but they should be re-thinking this. She said the markets need to realize that people are gravitating toward socially responsible firms even when buying small items such as a coffee, a carton of milk, or a t-shirt. "Consumers are voting with their wallets every single day," she said. 
Turner mentioned that Beautycounter was successfully sold last year to a private equity group, at an impressive evaluation of $1 billion. He said the sale helps confirm the idea that 'business as a force for good' is—at the end of the day—simply good business.