Melissa Christian (WG14) currently serves as VP, Divisional Merchandise Manager, at Dick's Sporting Goods.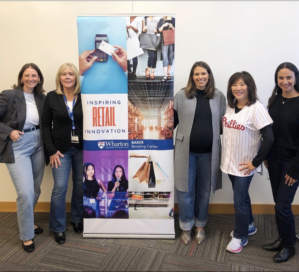 In this role, she oversees merchandising efforts and driving sales for all Kids' apparel, including Athletic Apparel, Outdoor Apparel, Outerwear and Swim. Prior to, she spent most of her career at DICK'S within the marketing department, most recently as the VP of Global Brand & Category Marketing where she developed strategies for building the DICK'S Sporting Goods brand and oversaw all marketing of apparel and footwear. In this role, she was particularly passionate about driving greater equity in sport for women. She played an instrumental role in forming DICK'S partnerships with the WNBA and Just Women's Sports, and led the company's viral response to the NCAA's gender inequities at the 2021 NCAA Basketball tournament. She oversaw the company's "There She Is" campaign that redefined standards of beauty and confronted sexist stereotypes of female athletes, and was featured in a 2021 marketing campaign about the female leaders of DICK'S called "Inside Moves," alongside seven other leaders of the company, including its CEO.
Melissa joined DICK'S in 2014 as the Manager of the Women's Initiative, a role that was largely focused on developing the launch strategy for CALIA, a private label brand that has since grown to be the company's second largest brand in Women's Apparel. She later accepted a 2-year role as Special Assistant to the CEO before returning to the Marketing Department as Director of Brand Management in 2017.
Melissa holds a bachelor's degree in Economics from Dartmouth College (where she was Co-Captain of the Varsity Swimming & Diving team) and received an MBA from The Wharton School at the University of Pennsylvania in May 2014. She serves on the Board of Directors of Special Olympics Pennsylvania, and is the proud mom of two young boys.
INSIGHT FROM MELISSA CHRISTIAN:
On Building Teams:
"Building strong teams is the number one thing you need to do within your career and your role."
On Trying Different Career Paths:
"I advise you, no matter where you end up, to look at the career paths of people at that company. I met a lot of people at Dick's that have done a lot of different things. Seeing people move around really spoke to me and made me feel like I could try things out and see what fits."