WITH SUPPORT FROM THE SILVERSTEIN FAMILY
Eric Ryan is an American entrepreneur who co-founded successful companies, Method, Olly, Welly, and Cast.
He graduated from the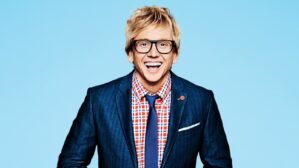 University of Rhode Island with a BA in Communications. Under his leadership, Method became one of the fastest-growing private companies in America, producing eco-friendly cleaning products. Ryan's next venture, OLLY, produced appealing vitamin and supplement products, including innovative protein products and gummies.
Always ready for the next challenge, he launched Welly, which produces eco-friendly first-aid kits, as well as skin care and beauty products. Welly offers products that address acne, itchy and dry skin, eczema, and more in a variety of forms such as sprays and lotions, and also produces hydrocolloid spot bandages for blemishes. His most recent venture is Cast, a shared business with a friend that seeks to reintroduce affordable fine jewelry to a younger generation of collectors by working alongside female-focused designers and artists.
Moreover, Ryan's innovative and socially responsible approach to business has earned him numerous awards and honors, including the EY Entrepreneur Of The Year Award, Vanity Fair's eco-leader, Time Magazine's eco-revolutionary, PETA's Person of the Year, and the Clinton Global Citizen Award. He was also named to Fortune's 40 under 40 list.
INSIGHT FROM ERIC RYAN:
On Customer Experience: We work everything we can to make everything feel like an experience, from the copy to the voice to the packaging
On Trend Cycle: Everyone is looking for new emerging brands, and that trend cycle has really sped up. There's a desire for newness that hasn't been here before.
On Brand Design: I try to design brands from day one that have not only the ability to fight off competition but evolve.