Isoken Igbinedion, Founder and CEO, Hairtelligence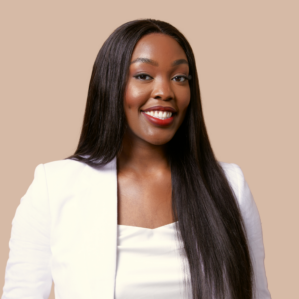 When Isoken Igbinedion was ten and the only Black student in her elementary school class, she was bullied for the texture of her hair. Her mother allowed her to get a perm but it only led to disaster: her hair started falling out. Today, Igbinedion has transformed the childhood prejudice she suffered into a business opportunity: she is the proud founder and CEO of Hairtelligence, a technology company that "recognizes and prioritizes the beauty experiences of Black people," in the company's words.
"We're creating the future we want to see: one that is more expansive and inclusive of who is considered and designed for," she says.
A Wharton MBA who graduated this winter, Igbinedion founded Hairtelligence in August 2020. Hairtelligence enables customers to obtain a customized, affordable, human-hair wig from the comfort of their home—no salon visit necessary. The company's AI uses algorithms to process customers' selfies and come up with the ideal hairpiece for each client, which is then created and shipped in just a few days. Current wig types offered on Hairtelligence.com include Kinky Straight, Deep Wave, Body Wave, Straight, and Blonde Body Wave. The wigs are priced from $400 to $1,000.
Igbinedion points out that her company also helps combat unethical labor practices. Most companies' hair products come from sweatshops in Asia, she says. "For the first time, we are introducing technology into the industry's supply chain, allowing us to pay living wages to the people who support the production of our products."
Hairtelligence appears to be riding a promising market trend: according to a recent Elle article, the global wig and extension market is growing and is projected to reach $13.3 billion in five years.
Learn more about Hairtelligence here:
https://www.hairtelligence.com/
https://www.ladderworks.co/blogs/spiffys-blog/isoken-igbinedion-using-ai-and-e-commerce-to-revolutionize-custom-wigs