News
Barbara Kahn's New Book: The Shopping Revolution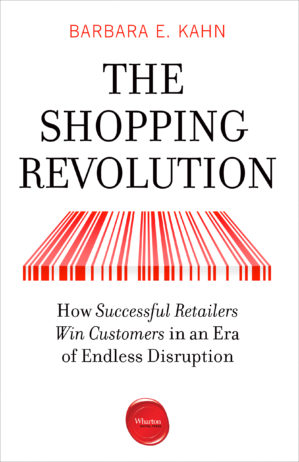 Barbara Kahn, Wharton marketing professor and Baker Retailing Center core faculty member, just published: The Shopping Revolution: How Successful Retailers Win Customers in an Era of Endless Disruption.
We are just witnessing the start of the radical changes in retail that will revolutionize shopping in every way. As Amazon and other disruptors continue to offer ever-greater value, customers' expectations will continue to ratchet up, making winning (and keeping) those customers all the more challenging.
Barbara analyzes the strategies of the retailers that have been most successful during this wave of incredible change in the industry, and offers fresh insights into what we can learn and synthesize from their achievements.
A critical component of the book is the new Retailing Success Matrix that Barbara developed. The matrix provides a proactive strategic framework that retailers can use to develop and evaluate their own competitive strategies for surviving and thriving in today's—and tomorrow's—retail environment.
As an exclusive offer to Baker Retailing Center board members, Professor Kahn is available to develop a customize workshop for board members and their top teams. Please contact Barbara Kahn kahn@wharton.upenn.edu for more information.